The Story Of Two Hard Working Women Destined For A Better Life
On a normal Thursday evening, about three months ago…
Two hard working women discovered the Law of Attraction at the same book store after a really long day.
On paper, they could have been the same … these two powerful women.
Both came from similar family backgrounds and were about the same age.
Both looked "successful" on the outside with their stable careers…

Yet felt a hollow void inside, like they were meant for so much more …
And both were, as most hard working women become, fed up with feeling stuck…
And were both hoping the Law of Attraction could help them find a way out!
About three months later, these two women found themselves in entirely different places.
They both read similar books, used similar techniques, and firmly believed in the power of the Universe …
But there was a difference …
One woman was exactly where she desired to be…
Made consistent progress in transforming her life…
And could easily see herself manifest her dreams …
The other woman's books were sitting on the shelf, collecting dust.
She was still in the same place, feeling stuck and alone.
"The Law of Attraction doesn't work" she told herself…
…"I don't have time for wishful thinking."
But the other woman didn't rely on "wishful thinking."
She had no problem manifesting her desires …
And watched herself succeeding more and more each day …
She built a permanent momentum of manifesting with the Universe.
The difference in these two women is not a difference in potential …
But a difference in their practice.
One woman harnessed the Law of Attraction as her second nature …
Took the "right" actions repeatedly and gained total control of her destiny …
The other woman stumbled around with manifesting in spurts …
Leaving her fate up to chance …
And her old self destructive habits rob her of abundance yet again…
The story of these two women will be repeated again and again hundreds of thousands of times over the next three months, and more.

With Every Failure Comes The
Seed Of New Life Success
Is your future success and happiness worth a moment to stop and really think about?
If so, then please consider your long term mastery of the Law of Attraction (and what your life could look like in five years from now).
You will discover this unmistakable truth:
Opportunities do not always show up like checks in the mail.
They arise from the ashes, like a phoenix reborn from a flame.
Sometimes what looks like a failure on the outside…
Is actually the Universe guiding you in a different direction along the way to get what you REALLY want out of life.
Yet when life throws you a curveball…
It's easy to get stuck feeling "that's the way it is always going to be" an accept it as your fate.
When that happens, it can really throw you off your game …
Making you stop believing in yourself, in the Universe…
And destroy your good feelings towards getting what you want!
That's why it's so important you have a simple plan and step-by-step guidance every day.
Like the ropes you grip as you cross the straw bridge from sporadic and inconsistent results …
To the promised land of activating the Law of Attraction by second nature …
Where you build the momentum of an avalanche towards manifesting bigger and better dreams ..
Having daily guidance raises the bar for what's truly possible to in your life.
The most successful manifestors in the world have now discovered a way to stabilize your journey with the Law of Attraction and accelerate the results you see …
So no matter what happens each day, you'll be able to stay on track …
Focus your intentions, and still be able to manifest what you want consistently.
An Opportunity Unlike Any Other
Right now, my biggest dream for you …
Is to let me help you shortcut your process of permanent and positive change …
Without old habits holding you back.
I want to see you replace that rickety old straw bridge of transformation you're used to crossing (or have been too afraid to cross)…
With a direct connection that safely (and effectively) transports you…
From the place you keep finding yourself stuck to the place you truly want to be.
What is it you've been wishing for?
Financial gain? Impeccable Health?
The power to bend reality at your will…
My personal promise to you is that I'm going to give you the opportunity to walk through a portal from this world…
To the other world – the world where what you wish for becomes real.
Right now I am looking through a special course I have created for you…
I call it your Fate Shifting Portal, and it's designed to change your destiny with the Law of Attraction.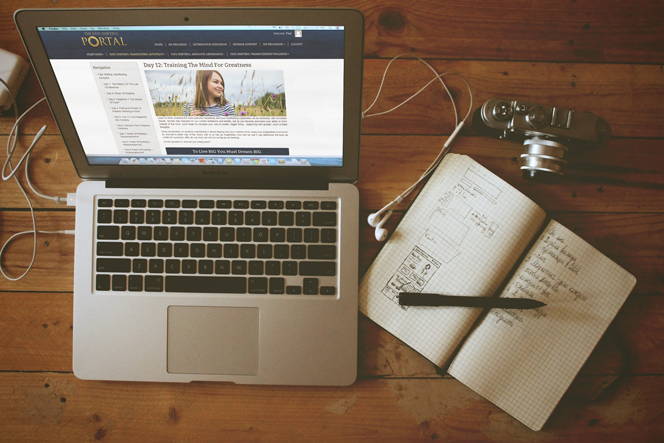 There are actually three Fate Shifting Portals in this course…
Each a unique thirty day journey that takes you by the hand each day (for only minutes a day)…
Giving you specialized daily guidance and direction in manifesting…
Revealing high leverage actions you can take to boost your control over the Law of Attraction…
And allowing yourself to manifest permanent and positive change in your life.
Once you step through a Fate Shifting Portal…
There is no going back to "the way things were"…
Or feeling the piercing sting of failure (or the heaviness that comes with it) again …
Why?
Because your failures have birthed a fertile seed, and there's only opportunity ahead.
Your Path To Absolute Abundance

Did you know that money is the primary concern for people when it comes to the Law of Attraction?
And for good reason.
Because once you have financial security…
…and don't have to worry about where your income is coming from…
You experience a relief that ripples in all areas of your life.
Doesn't it feel great to know your bills are taken care of?
Let me help you bypass that dark bridge of financial burden you are facing…
And bring you to a place where abundant feelings of freedom become your default state of being…
Once you pass through the Absolute Abundance Portal…
You'll feel your relationship with money transform…
And automatically find it easier to see yourself shift financial outcomes in your favor as you get ahead in life…
Your Door To Transcendent Wellness

This Fate Shifting Portal is really important if you have a history of medical problems in your family…
It's your chance to resolve the deeper, underlying issues attacking your health…
Allowing you to love your body and end harmful habits like stress eating and weight gain…
Without sacrificing what makes you happy inside.
That's why the Transcendent Wellness Portal is so popular…
It upgrades your health and wellness consciousness so you energize your body…
Removing the hidden emotional factors that are draining your health…
And renewing your confidence in how you treat yourself from the inside out…
(Hint: It only takes a few tweaks and shifts every day that are actually a lot of FUN!)
This Fate Shifting Portal focuses on removing negative emotional factors that are draining your health and wellbeing…
Enabling you to end bad habits (like stress eating) without giving up what you love.
No matter what brought you here today, improving your health will only make things work out better for you, giving you the energy to enjoy yourself completely.
Especially when you begin…
Your Journey Through Attraction Mastery

The third area to apply Fate Shifting …
Is learning how to play a BIGGER GAME in life …
By taking you through the Attraction Mastery Portal.
While you focus on watching yourself manifest bigger and better things …
You'll envision the intentions you set inside this portal …
Begin to manifest themselves.
You see, so many things are possible when applying the Law of Attraction in your life because as effortless and natural as brushing your teeth every day.
This portal enables you to magnify your focus on specific areas of your life where you want to see things manifest.
If you are serious about living an abundant "lifestyle" (instead of setting for technique-based results)…
Then this might be the day that the winds of change shift in your direction, and you make that leap for good.
So many things are possible once you apply Fate Shifting in your life.
How To Make Unlimited Abundance Your Second Nature
Each fate shifting portal has taken years of preparation.
They're filled with daily "done for you" exercises designed to make abundance your daily practice and a permanent part of your life.
And it won't take more than 10 minutes a day because each day's worth of simple, yet wickedly effective info is a lot of FUN and easy to digest!
Consider this as your daily cup of abundance!
We all know that repetition is the mother of all learning.
And by repeating the "right" actions each day (in this specific order and way) …
You'll be able to witness miracles unlocking in your life.
Right now we are accepting enrollment for all three fate shifting portals, and that may change from time to time.
Each portal program is a 30 day journey with daily guidance and has a normal retail price of $99.99
That's a mere $3.33 a day to inspire permanent change.
That's less than a latte at Starbucks, an energy drink, or that "bad for you snack" you eat when things get too stressful…
I'm sure you'd agree that's a bargain for the amount of transformation and personal change each Fate Shifting Portal can bring …
But still – I'm about to give you a deal that is much sweeter than that!
Because I truly want my dream for you to come true.
Today, you can get full instant access to all three Fate Shifting Portals – Absolute Abundance, Transcendent Wellness, and Attraction Mastery…
Not for $299… but for one simple payment of $199.
Or if you want to break it down by day, that's now just $2.21 per day – 33% LESS than the retail cost!
PLUS: I'm also going to give you a push-button audio called…
Affirmation Sensation
This push-button audio track is filled with "done for you" affirmations, combined with binaural beat technology, to prepare your mind (and heart) for faster progress through manifesting.
As you listen to this cutting edge audio track you'll find mental clarity, peace of spirit and an unstoppable fire in your belly to have what you truly want in life.
A program worth $39 alone, but yours free when you step through your Fate Shifting Portals today.
How Masters Invite Miracles Into
Their Lives With Zero Risk At All
Any true master who believes in abundance already knows that the more you give in the world…
The more the world likes to give back to you.
I believe in this principle with all my heart and soul.
That's why I want to give you an opportunity to take control of your fate and see yourself manifest destiny by your personal design.
And I want you to have that opportunity with zero risk whatsoever…
So I have you covered with my…
Money Back Triple Guarantee
For your total satisfaction and peace of mind
1. Quality Of Education
You can count of the highest level of quality throughout this program. Every lesson, technique, written word, recorded audios and videos have been crafted down to the fine detail. Everything you will learn is the result of a remarkable discovery that has since impacted over 2 million people in just a few short years.
2. Progress & Achievements
It doesn't matter if you've struggled to manifest before trying this program, you'll norice profound changes in your life that once before thought were impossible. If you want it, get it. Follow your heart. That way, you've guaranteed to learn what you need to know.
3. Positive Impact On Your Life
You will begin to grow and flourish, even if you've been stagnant for years. You'll be happier and more productive. You'll have the ability to spark positive change to those around you.
Your decision to enroll now in the Fate Shifting Portals program is covered by a no questions asked, 100% money back guarantee for 60 days!
If for any reason (or no reason at all) you feel that Fate Shifting is not for you (and for some people who really don't "get it", it's really not) …
Simply contact our customer happiness team for a complete no hassle refund of your entire purchase amount.
That way you can dig through the entire program, test it all out on your own, see yourself getting more and more results, and wait after two whole months…
Before you really decide to invest your money or not.
I cannot stress how important it is to make abundance a natural habit in your life, and this course has been carefully crafted to do that for you (and more).
A Successful Lifestyle Awaits You – Now
Right now, I want you to listen to your intuition saying "YES" you need to jump on this.
If you feel it in your gut, then do it now while the price is still discounted…
While you are still getting the push-button "Affirmation Sensations" program for free.
And certainly while everything is covered by a zero risk 100% money back guarantee.
In 90 days from now, I want you to look back at today …
To see this very moment as the moment you felt yourself get pulled out of the muck and struggle of inconsistent results …
And made abundance your "second nature" by giving your seed of opportunity the necessary room …
To grow, break through the soil, bloom and prosper.
To Your Permanently Abundant Life,


Katherine Hurst
P.S. Do you remember those two women I told you about at the beginning of this letter?
They were so similar, yet got such incredibly different results with the Law of Attraction in just three months.
One woman struggled to make it work, gave up, and settled for the same old "dead end" results…
While the other began to create a powerful momentum, like a snowball growing as it rolls down a hill…
If you hear your higher self calling out for a better, more bountiful life…
Then ask yourself this one simple question…
Where would you rather be in 90 days from now?
In the same exact place you are right now?
Or on your way to crafting the ideal life you really want to achieve?
On the next page you'll process your order using any major credit card or paypal on our private and secure shopping cart. If you have any questions about your order please call (number) at any time.
See you on the inside!